Optimized time slot management with RampMan®
Optimize your ramp management! The RampMan® time slot management system is a central communication platform between the ramp owner and the delivery or pick-up company and ensures efficient utilization and smooth ramp operations.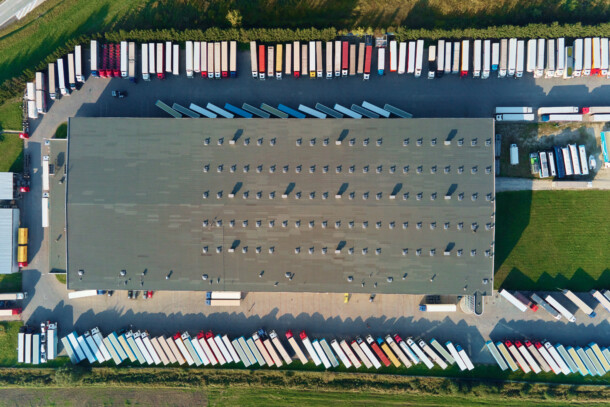 RampMan® - Advantages in detail
Ramp management is as simple as that: Freight forwarders and suppliers can use an interactive calendar to immediately see when handling is possible – and so guaranteed – at a certain ramp. At the same time, the ramp owners are aware of the upcoming loading and unloading.With our lean cloud solution RampMan®, the "Focus on: Loading ramp" is a thing of the past. With the help of the predictive time slot management software, ramp utilization can be transparently displayed, planned and controlled. Waiting times before the actual loading processes – and the associated stand-by fees – can be permanently reduced in this way.
Innovative operating concept using intuitive user interfaces
Interactive calendar display
Predictive overview of available options
Different system languages
Monitor views for planning at the loading bay
Time slot processing and flexible operation
Shifting the time slots via drag & drop
Display of delays
Actual time recording (also mobile)
SMS dispatch for access control
Series slot management
Analysis functions for optimizing ramp utilization
Extensive TARGET/ACTUAL reporting
Event-based notification and reporting system
Export functions for analyses & key figures (PDF, XLS)
Reports to show the utilization per ramp and location
Structuring of loading and unloading zone across building areas
Functions RampMan®
Smart. Efficient. Flexible – This is what makes our time slot management software special:
Functions
Hierarchical master data concept
Event-based notification and reporting system
Definition of different parameters for automatic (pre) calculation of the duration of a time slot
Integrated time model: Company shutdown, holidays, times, shift system, special opening hours
Flexible time slots: predefined schedule or variable start times, duration (intervals, minimum, maximum, fixed, buffer, automatic calculation)
Booking mode: one-step/two-step procedure, automatic confirmation of booking requests after certain time
Physical limitations and special processes: Truck types (mega trailer, small truck 7.5t), cargo types (FTL, LTL, general cargo, bulk cargo), special cargo (foam cargo, hazardous cargo), resources
Calendar views with integrated drag & drop function
Series slot booking and management
Analysis and evaluations
Export functions for analyses & key figures (PDF, CSV, XLS)
Document management
Upload and organization of delivery notes, waybills, pictures
Management dashboard
Automatic notifications & reports
Many language options
Booking list with extensive booking data
Automatic calculation of deviations by analyzing actual times
Tabular view of the automatic utilization calculation
Graphical view of the automatic utilization calculation
Contact us now for a RampMan® consultation
For all questions concerning the software RampMan® I am at your disposal!
Frequently asked questions about RampMan®
From how many ramps is the use of the RampMan® worthwhile?
There is no minimum number of ramps for the use of RampMan®. RampMan® is used by companies with one to over 50 ramps and is also suitable for companies of any size thanks to its attractive conditions.
How can I find out if RampMan® is also suitable for my company?
We would be happy to present our RampMan® software to you in a non-binding appointment using a live demo. Please contact us at rampman@logsol.de.
What data is required for a quotation for the implementation and use of RampMan®?
We rent our software in the Software-as-a-Service model (SaaS) and make RampMan® available to you via the Internet for the agreed contract period (without limitation in terms of number of bookings, companies, logins/users, etc.). For the use of RampMan® we charge you a monthly service fee per location including all user accesses, time slot bookings and server costs with 99.9% guaranteed server availability.
For the creation of a first price indication of the standard software, we need the following information:
• At how many locations is the use of a time slot management system to be implemented?
• How many deliveries and collections do you have per month and location?
• How many ramps/gates/unloading bays do you have at the site?
• How many forwarding companies should use the software in the future?
• How is time slot management currently implemented at your site?
• Have you already established a solution or is there currently no control of deliveries and collections?
How much time should I allow for the implementation of the software?
This essentially depends on your requirements for a time slot management system and the quality of the master data. The standard software RampMan® can be made available to you shortly after the order is placed. Implementation in your company is realistic in three to six weeks. You should allow a little more time if customer-specific software adaptations are necessary in the course of the software implementation.
How does LOGSOL support me during software implementation?
During the software implementation you will be supported by an experienced product manager. Depending on your needs, your personal contact person will assist you with the requirements analysis, any software adjustments, employee training and the software go-live. In addition, we fully configure the software for you based on the master data you provide.
How is user training provided?
RampMan® has an intuitive user interface in several languages. This enables users to find their way around the solution independently. The forwarding agencies receive a brief instruction on how to use RampMan® with the login data, which is usually completely sufficient.
For the training of key users and future administrators of your company, LOGSOL GmbH favors the training-the-trainer concept. The training takes place on your premises or via web conference by arrangement. The key users then pass on the knowledge to their colleagues. Individual training concepts can be coordinated and implemented if required.
How is RampMan® installed and how do users get access to the software?
The RampMan® is a web application and is made available via the medium Internet. An installation of the software is not necessary. Via a customer-specific domain and with a common Internet browser, all users can access the software with their access data.
Where is my data stored and how secure is the RampMan®?
We offer the RampMan® as a hosted solution on dedicated servers in a German high-security data center with 99.9% guaranteed server availability. The data is transmitted encrypted (SSL) and access to the RampMan® is exclusively via password-protected access. Automated backups of the data protect you from data loss in case of emergency. With an ISO/IEC 27001-certified information security management system (ISMS) at both LOGSOL GmbH and the hosting service provider, we set a strong example for the security of information, data and systems.
Can RampMan® be connected to other systems?
In principle, any system can be connected to RampMan®. By means of interfaces, the data can be exchanged between the different systems and RampMan®. Due to customer-specific requirements, interfaces and their implementation are evaluated and implemented individually per project.
Is the software constantly being further developed?
The RampMan® is constantly being further developed functionally and with regard to safety-relevant aspects. The enhancements and improvements are made available to our customers free of charge after agreement on an update date. An internal roadmap and the influences of the various customer projects and their requirements allow the standard software of the RampMan® to grow and optimize continuously.
Who can I contact with questions and problems after software implementation?
Your personal contact person is also available to answer any questions you may have after the software has been implemented. In principle, our support team is available to all software users for technical and application-related questions in German, English and Chinese. With the help of a ticket system, users record their concerns and are constantly informed about the processing status of the support ticket. The contractually agreed Service Level Agreements (SLA) regulate the fast response times of our support team.
For which industries is RampMan® suitable?
RampMan® can be used across all industries by all companies with delivery and collection processes and the need for a time slot management system.